Seminars by UFC Fighters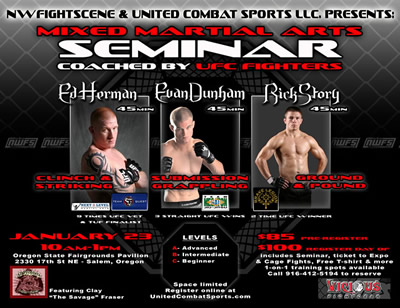 NW Fightscene & United Combat Sports present MMA Seminar January 23rd

NW Fightscene and United Combat Sports LLC have teamed up to present a very special MMA Seminar providing real UFC style training from current UFC fighters, Ed "Short Fuse" Herman, Evan Dunham, and Rick "Horror" Story. The seminar will be part of the 1st Annual Health, Fitness, and MMA Expo with Live Cage Fights presented by United Combat Sports and held inside the pavilion at the Oregon State Fairgrounds on Saturday, January 23rd.
The Expo is an all day event that will also include a No-Gi submission tournament, Cross Fit Challenge, Muay Thai demo, MMA demo and much more. Tons of local and regional NW MMA, Fitness, and Health vendors will have booths set up including NW Fightscene which will feature NWFS booth babes handing out cool merchandise as well as the above mentioned coaches stopping in. Fans can compete against the coaches in the UFC Video Game Challenge and win some great prizes! In the evening there will be a special night of cage fights at the fairgrounds called "The Resolution". This is one event that should not be missed!!!
The MMA Seminar starts at 10 am, and is divided into three 45 minute classes:
1. Clinch & Striking - 9 time UFC veteran and Ultimate Fighter Season 3 Finalist, Ed "Short Fuse" Herman from Team Quest and Next Level MMA is tailoring a class that will teach MMA style striking for the Cage using Clinch and Dirty boxing techniques perfected by UFC competition.
2. Submission Grappling - Team Megaton and Xtreme Couture fighter Evan Dunham shocked the world with a come from behind submission of Efrain Escudero at UFC Fight Night 20. Dunham is undefeated in UFC competition and is teaching a class on Submission Grappling. Learn how to pull off a submission UFC style!
3. Ground & Pound - Brave Legion fighter Rick "Horror" Story fought and won in the 7th best fight of 2009 as voted by UFC fans. Most recently he beat Jesse Lennox at UFC Fight Night 20. Come and learn Story's feared GNP inside the event cage!
Tell us your MMA experience and we'll place you in the proper level to maximize your seminar training.
· Advanced - This group will have more intense training and will have live sparring drills coached and critiqued by coaches. For fighters and serious MMA enthusiasts. It is recommended to join with someone close to your weight to buddy with through the seminar. (Must have proper equipment: mouthpiece, cup, shin guards, wraps, gloves, head gear optional but recommended)
· Intermediate - This group has some training experience, but not pro. No live sparring. (Will need wraps and gloves, and cup.)
· Beginner - This group has little to no training at all, designed to teach MMA to beginner. (Please consult doctor in needed before!! Bring mouthpiece, cup, gloves, and wraps if available)
Seminar is $85 if you pre-register online (Highly recommended!). It is $100 if you sign up the morning of the event (come at least 20 minutes early). Space is limited and there is no guarantee spots will be available if you wait until morning of seminar. The fee includes the MMA Seminar, free admission to the all-day expo, a General Admission ticket to "The Resolution" MMA fight event in the evening presented by United Combat Sports, plus a free t-shirt and more. To register online go to UnitedCombatSports.com.
One on one training with each of the coaches is available for an additional fee. Spots are very limited. Call 916-412-5194 to reserve your space or to learn more.
This MMA Seminar is presented by NW Fightscene and United Combat Sports LLC. Additional sponsors include Vicious Fightgear, Team Quest, Team Megaton, Brave Legion, Next Level Martial Arts, and All Prophet Tattoo featuring artist Clay "The Savage" Fraser.
The seminar and expo will be held in the pavilion at the Oregon State Fairgrounds, located at 2330 17th Street NE in Salem, Oregon. Enter the building from Sunnyview Rd NE.